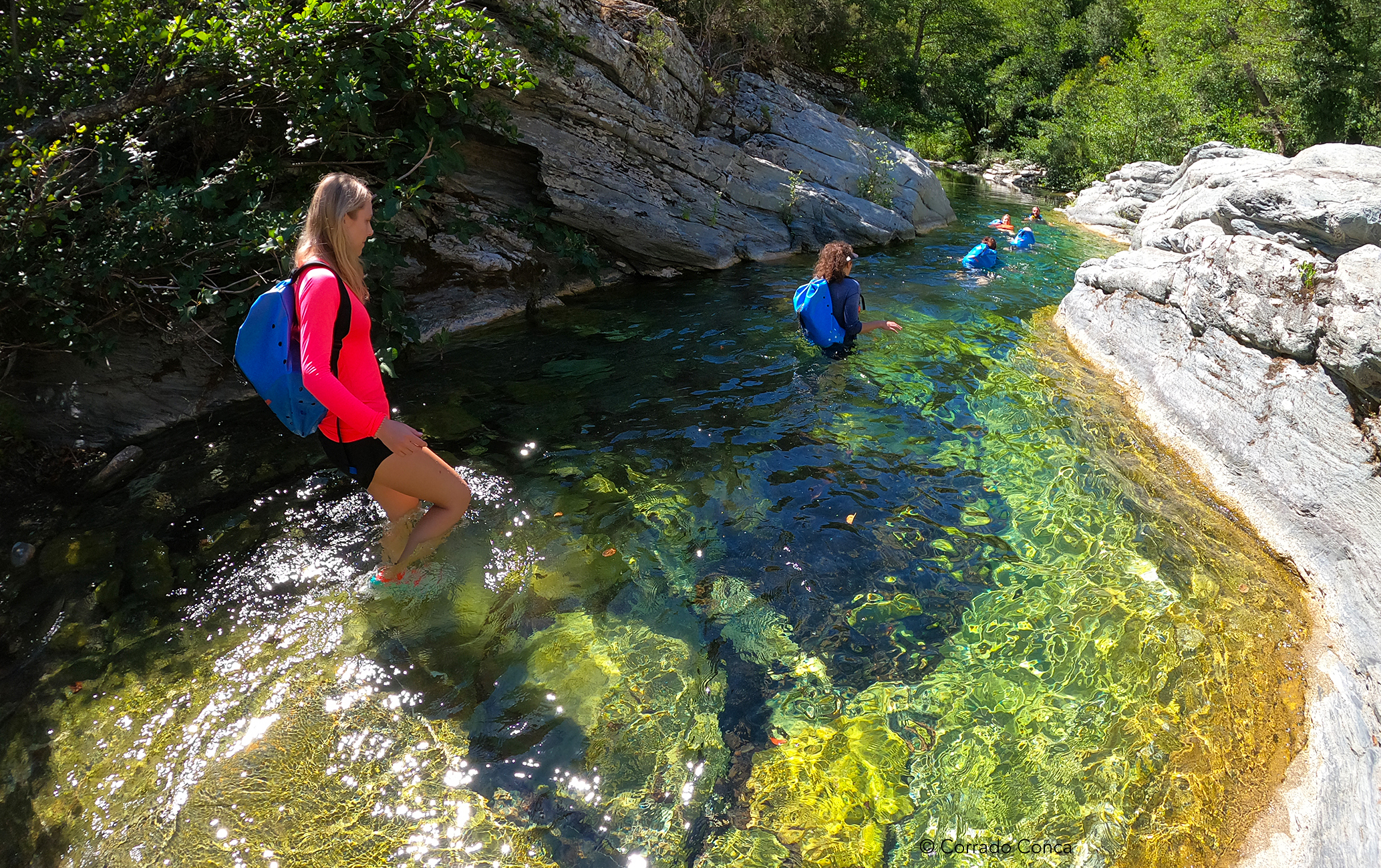 Short Hikes
Acquatrekking
On by
Acquatrek (or river walking) is a form of sprimg-summer hiking that is carried out by following the bed of a stream or a river, sometimes walking partially immersed in water, sometimes swimming for short distances. To sum it up we could say that the path is replaced by the watercourse allowing us to enjoy wonderful summer walks without suffering from the heat.
In Sardinia there are about fifteen rivers which due to their beauty and simple approachability are perfectly suitable for the practice of acquatrekking.
Here is a short video related to an acquatrek on Rio Semidesuru:

Here is a short list of acquatreks that I suggest especially to those who come in contact with this surprising hiking activity for the first time:
Rio Calaresu / Pirincanes (Arzana): beautiful and easy hike without any swimming sections, therefore you walk in a bucolic scene just by the stream, sometimes with the water level at your ankles and sometimes at your hip. This round trip follows the same route for both directions with a total duration of approximately 3 hours.
Rio San Girolamo (Ussàssai): one of the most popular and repeated route of acquatrek lovers, which immediately became a huge hit for the transparency of the water of its ponds and for the simplicity of the route as a whole. One-way route (with shuttle) lasting about 2 hours.
Rio Flumineddu (Dorgali): this route unfolds in one of the most famous hiking areas of the island, near the Gorropu canyon, where this acquatrek actually begins (1h45 ' to reach the starting point) to come to its conclusion after about four hours at the bridge of S'Abba Arva. Stunning and exciting, physically a little more demanding than the other routes on this page.
Rio Altana (Alà dei Sardi / Bitti): perhaps one of the most impressive acquatreks that can be found in Sardinia, the stream of Rio Altana offers a wonderful sequence of clear ponds, bright and smooth rocks, with sliding sections on horizontal rocky planes . An hour to reach the spot and four hours of acquatrek will make you fall in love with this activity.
Rio Flumendosa (Gadoni / Seulo): it is possible to travel for 5 kilometers between the village of Norcui and Arredelusu, which is one of the most beautiful, wild and compelling sections of this river thus covering one part of the much longer Rio Flumendosa. It takes an hour of a pleasant walk to reach the location then we spend around 3/4 hours chasing the winding stream between ponds and lush vegetation (shuttle required both uphill and downhill).
---
Further information
• Participation fees starting from 30 € based on the chosen destination
• The participation fee includes the loan of the technical material (shorty wetsuit, pvc backpack, canyon kegs)